EXAMPLE 01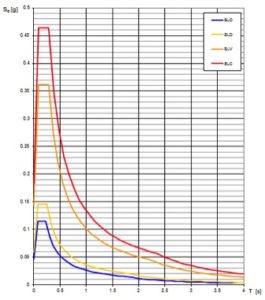 The images show three different responses of as many horizontal seismic solicitations frequencies on a three-floor building made of reinforced concrete.
The elastic spectrum, showing the ground behavior of seismic oscillations, is represented in the diagram. This diagram displays the elastic response spectrum plot of the peaks of the reference site.
The modal analysis allows you to evaluate the seismic solicitations and consequently to check structural elements and foundations.
---
EXAMPLE
02

The images show an example of enlargement works. The enlargement of a pre-existing building consists of a structure composed of one garage and two horizontal elements of a porch. The first table shows the seismic forces applied according to the equivalent static simulation method. The central images show the results of the simulation calculations: bending solicitations on the pillars
Seismic evaluations have been carried out by using equivalent static analysis as provided by mandatory regulations.